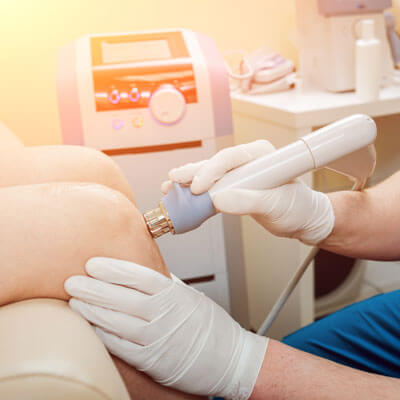 Shockwave Therapy in Mount Pearl
If you've been putting up with chronic musculoskeletal pain and haven't gotten the results you were hoping for through other avenues, consider BTL Shockwave therapy. At Active Health Chiropractic, we're pleased to offer this groundbreaking therapy to our patients.
As a non-invasive solution for chronic musculoskeletal pain, the Extracorporeal Shockwave therapy is often used in physiotherapy, orthopaedics and sports medicine.
Conditions It May Help
Here are the most common conditions that may improve with Shockwave therapy:
Painful shoulder
Epicondylitis
Low back pain
Achilles tendon pain
Tendonitis
Trigger points
Plantar fasciitis
How Does It Work?
During the therapy, a high-intensity acoustic wave interacts with the tissues of the body, leading to numerous beneficial effects. These include reversal of chronic inflammation, release of trigger points, stimulation of collagen production, a breakup of calcium buildup, and more.
As the injured area returns to normal, a patient can experience restored function and pain relief.
Frequently Asked Questions
How many sessions will I need?
You will likely need up to six treatments, which are done once a week.
Some people consider the therapy uncomfortable, but there are different levels on the machine that can be adjusted to make it more tolerable.
Shockwave isn't for every condition, but it's ideal for those stubborn areas where there needs to be some more aggressive treatment.
Results One Patient Experienced
A patient recently suffered an old work-related injury from about 20-plus years ago, and had a reaggravation of that injury. She had ultrasound and was found to have significant calcium buildup in tendons of her rotator cuff. The patient was in considerable pain, and Dr. Slaney was concerned she was developing a frozen shoulder.
"Once we saw the ultrasound report, we knew that Shockwave therapy would be helpful. It's been amazing to see the improvement with her shoulder," said Dr. Slaney. The patient has had significant improvements in pain control and range of motion. "She couldn't put her hand behind her back, but now she can. The patient is significantly better, and very happy," added Dr. Slaney.
Book an Appointment
Discover how Shockwave therapy may benefit you. Contact us today to schedule an appointment!
CONTACT US »

Shockwave Therapy Mount Pearl, St. John's, Paradise NL | (709) 726-0595