Massage Therapy in Mount Pearl
At our practice, we believe in helping patients live their best, healthiest life possible through various modalities that promote wellness and healing in the body.
One of those modalities is massage therapy. We're proud to have helped thousands of patients just like you experience the benefits of this type of focused therapy. Whether you have joint pain or soft tissue problems, are seeking stress relief or tension reduction, massage may help you. This natural therapy also may help improve sleep, boost mood and reduce fatigue.
This modality is beneficial for patients of all walks of life. We see patients ranging from teens to seniors; we also provide massage to moms-to-be, athletes and Special Olympians.
NEW Patients »

Conditions Massage Can Address
It's important to note that massage never cures anything, but it may help with many conditions, including the following:
Arthritis
Carpal tunnel syndrome
Fibromyalgia
Frozen shoulder
Headaches and migraines
Injuries
Knee pain
Neck pain
Plantar fasciitis
Sciatica
Stress
Tendonitis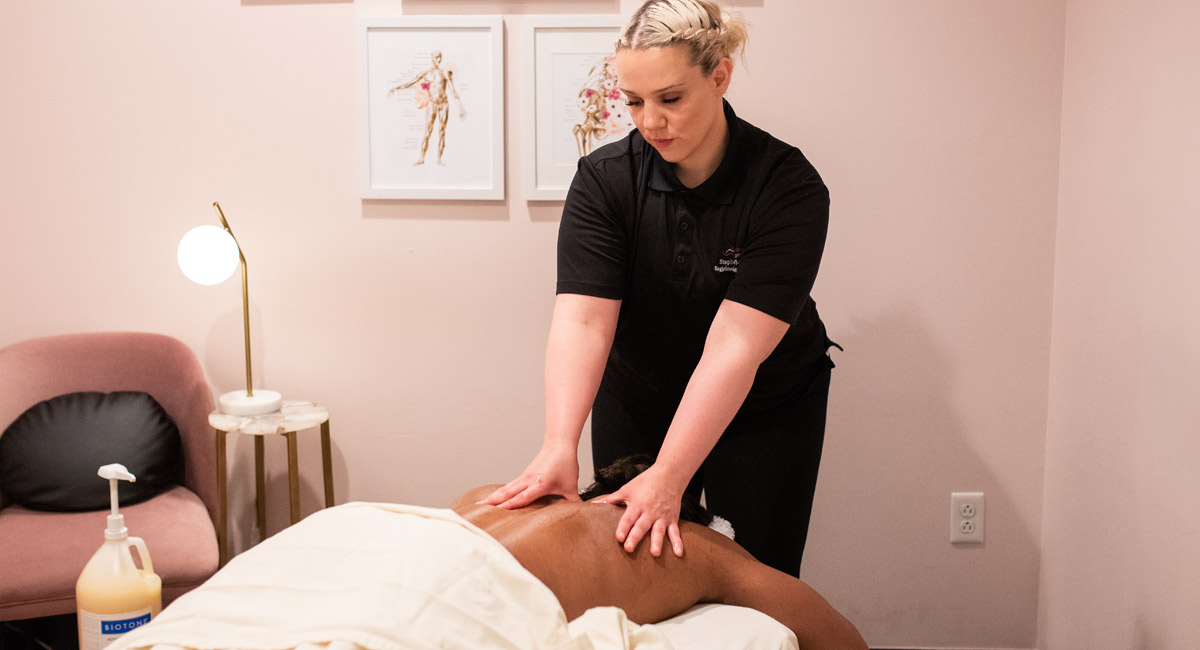 Providing Customized Care Plans
As we use a patient management program, our massage therapists and chiropractors can communicate with each other (with patients' permission) to create a plan of care that best meets every patient's unique needs. Our therapists have years of experience crafting custom care plans for each patient.
When you visit us for your first appointment, we will learn more about you and your health goals while assessing your problem areas. From there, we'll develop a focused care plan.
We always want you to feel comfortable in our care. Many patients choose to visit us for "maintenance" massages every 4-6 weeks, but the choice is entirely up to you!
FAQ
What types of massage are available?
A broad array is available. These forms of massage include deep tissue, Swedish, prenatal, trigger point release, and more.
Do massage and chiropractic care complement each other?
Yes, massage can help you hold
chiropractic adjustments
better. Many of our patients receive both chiropractic care and massage as part of their plan.
We offer 30-, 45- and 60-minute sessions. The total time of the first session will be an hour, including a brief assessment followed by a 45-minute-plus massage.
Do I have to be completely undressed during my session?
No, we want to make sure you're always comfortable. That's why you can undress to your level of comfort. While some patients prefer to be completely undressed, others elect to keep their undergarments on. You will be able to undress and dress in the privacy of your massage room. Rest assured that you will be covered by a blanket or a sheet during your massage session.
Is a massage painful?
No massage should ever be considered painful. If you happen to experience some discomfort that may indicate that the muscle is inflamed or injured. If it is, your therapist can adjust the pressure.
Is there anything I should do after my session?
We recommend that you drink plenty of water as muscles can get dehydrated during a massage.
Will you bill my insurance company?
If you have insurance, most likely, we can direct bill for you. A referral for massage from a medical doctor is required for us to be able to bill your insurance.
Book Your Time
Contact Active Health Chiropractic today to schedule a session. Currently, massage is available every second Saturday.

Massage Therapy Mount Pearl, St. John's, Paradise NL | (709) 726-0595