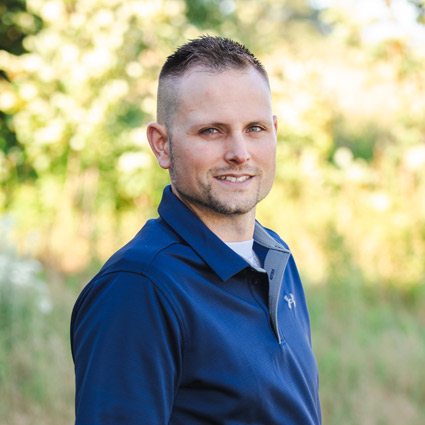 Meet Dr. Keith Abbott
My mom was always in a lot of pain, and she tried several different things. The only thing that helped her was chiropractic.
Deciding on a Career in Chiropractic
In 2008, Dr. Abbott completed a Bachelor of Kinesiology from MUN. Before deciding on becoming a chiropractor, he shadowed different healthcare professionals, including occupational therapists, physiotherapists and massage therapists.
EXPLORE OUR SERVICES »

Dr. Abbott realized that none of those were for him, so he decided to enroll in chiropractic college. He attended Canadian Memorial Chiropractic College, graduating in 2013. While there, he was amazed by the incredible results he witnessed when attending observations in clinic.
Providing an Array of Techniques
Dr. Abbott practices using a patient-centered, evidence-based approach as well as clinical experience. Dr. Abbott finds it fulfilling to help people in pain.
"I've had some patients come in crawling, and 6-8 weeks later they're running or going to the gym."
He continuously strives to improve the wellness of all patients. "I believe that interdisciplinary management and physical activity are the keys to improving a patient's overall quality of life."
Dr. Abbott uses many different techniques including soft tissue, myofascial release, spinal mobilization, manipulation, and rehabilitation as well as lifestyle and patient education. He holds additional certification in the Graston Technique and Lumbar Spinal Stenosis Rehab at Active Health Chiropractic. Dr. Abbott has extensive experience working with chronic pain, motor vehicle and workplace injuries. He enjoys caring for patients of all ages.
Dr. Abbott was amazing diagnosing my issue and taking corrective action. My issue was bruising from seat belt trauma. My muscle pain was treated and relieved in 5 visits.

Ray P.
Living an Active Life
In his free time, Dr. Abbott enjoys staying active, keeping up with scientific literature and spending time with his wife and kids. He particularly likes to participate in team sports such as recreational hockey and high-level softball. In addition to being an athlete, Dr. Abbott also provides chiropractic care to various athletes, including runners, hockey players and powerlifters.
Dr. Abbott also is an officer of the Newfoundland and Labrador Chiropractic Association (NLCA).
Discover the difference that chiropractic could make in your life. Contact us today to schedule an appointment with Dr. Abbott!
CONTACT US »

Dr. Keith Abbott | (709) 726-0595